Patriots

He could give the Patriots something they've been missing.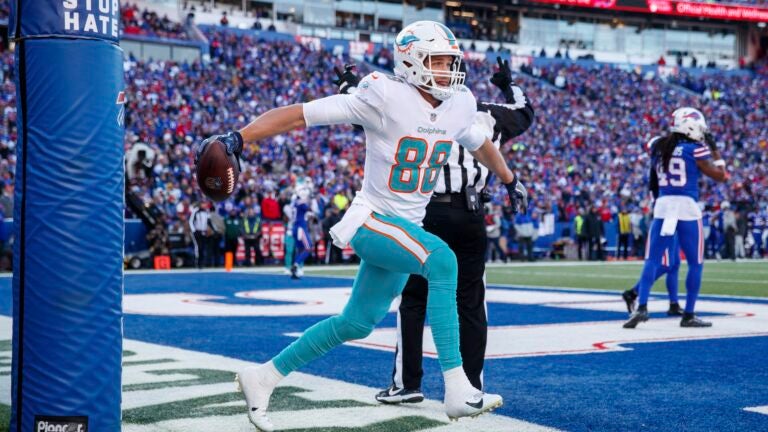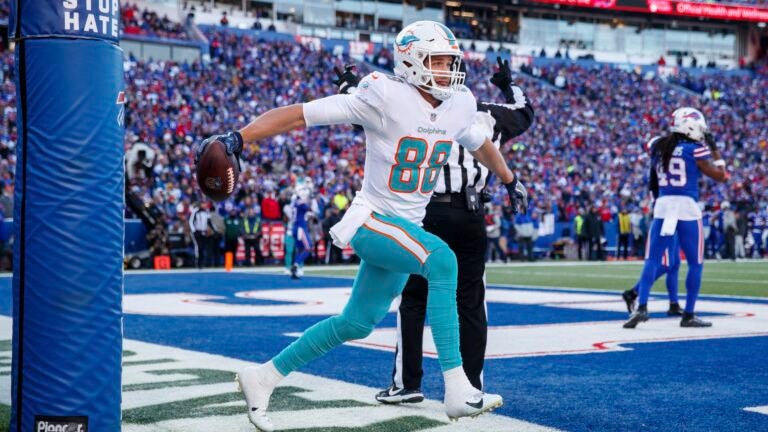 The Patriots fortified their tight end room by reportedly signing 6-foot-6, 247-pound red-zone threat Mike Gesicki to a one-year deal worth up to $9 million.
Gesicki, who has spent his entire five-year career with the Miami Dolphins, joins Hunter Henry and effectively replaces recently departed Jonnu Smith.
Here are five things to know about Gesicki:
He was a three-sport star in high school.
Gesicki, 27, doesn't have ties to New England specifically, but he is a Northeast guy.
He grew up in Stafford Township, New Jersey, starred at Southern Regional High, and developed into a three-star recruit while also playing basketball and volleyball.
Not only could he dunk with ease – Vince Carter is his favorite athlete ever – but he also won a state championship and was the player of the year in volleyball.
Gesicki set the record for most receptions by a tight end in Penn State history, then the Dolphins selected him in the second round of the 2018 NFL Draft, with the 42nd overall pick.
He grew up a Giants fan.
Sorry, Patriots fans, but Gesicki grew up rooting for the New York Giants and had the time of his life watching them stun the Patriots in the Super Bowl in 2008.
"I was running around my house losing my mind," he tweeted recently.
He's done some damage against the Patriots.
Gesicki scored the winning touchdown against the Patriots with 24 seconds left in 2019, when the 5-11 Dolphins rallied for a 27-24 victory.
The catch cost the Patriots (12-4) a bye and led to them playing in their first opening weekend of the playoffs since 2009.
That also happened to be Tom Brady's final regular-season game in New England, and the Patriots then lost to the Titans in the playoffs. So, Gesicki played a small but somewhat significant role in ending the Patriots' dynasty.
He has 14 catches for 125 yards and two TDs over nine games against New England.
Patriots head coach Bill Belichick has described him as someone who's hard to cover, has very good hands, and has enough quickness to separate.
"He's got really good receiving skills," Belichick said. "He's really, I would say, more of a big receiver than a true tight end."
He could give the Patriots something they've been missing.
Gesicki, Henry, and wide receiver DeVante Parker should have a chance to thrive in tandem in the red zone.
In theory, most teams will have no choice but to put a smaller defender on at least one of them, which could create mismatch problems.
New England scored touchdowns on only 42.2 percent of its red zone trips in 2022 – the worst percentage in the NFL. That came after a 63 percent mark in 2021.
As The Boston Globe's Jim McBride noted, new offensive coordinator Bill O'Brien is a fan of 12-personnel looks with two tight ends. O'Brien recruited Gesicki back when he was in high school, so there's familiarity between the two.
Gesicki has caught five or more touchdown passes in three of the last four seasons – including this year when Miami had a stacked receiving corps.
"Good hands and instinctive receiver that knows how to get open and can make good catches in tight coverage with his length and his hands," Belichick said.
He helps children with cancer.
Gesicki is involved with THON, an organization that helps enhance the lives of children and families affected by childhood cancer.
While at Penn State, he spent time with a young fan named Landon and brightened his day.
He auctioned off worn, Penn State and THON-themed cleats and gave 100 percent of the proceeds to the organization.
Gesicki also collaborated with Baptist Health to surprise nurse Nicole Jarett with a $2,500 gift card during the height of the pandemic.
Sign up for Patriots updates🏈
Get breaking news and analysis delivered to your inbox during football season.



Source : https://www.boston.com/sports/new-england-patriots/2023/03/18/mike-gesicki-new-patriots-tight-end-five-things-to-know/