Patriots

When it comes to looking for potential Patriots on the defensive line, Belichick takes an unconventional approach.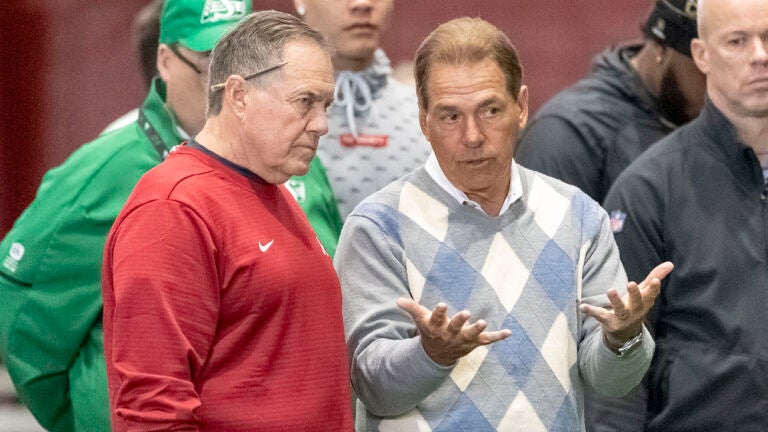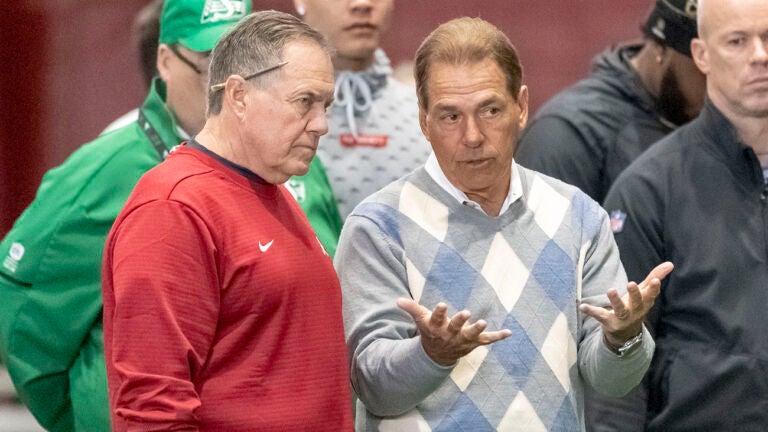 Bill Belichick rarely tips his hand when it comes to his process of evaluating hundreds of prospects ahead of a draft.
But University of Georgia head coach Kirby Smart shed some light on Belichick's preferences when it comes to identifying potential Patriots in the collegiate ranks.
The months leading up to the draft often feature countless Pro Day visits, combine evaluations and extensive interviews. But Belichick tends to take a unique approach when assessing defensive linemen.
During a coaching clinic conducted by Smart, the Bulldogs coach retold a story during his tenure as safeties coach with the Dolphins — who were then led by Nick Saban.
Saban, the current Alabama head coach and close Belichick confidant, ushered his position coach over to Belichick during the 2006 Scouting Combine to learn from the New England coaching legend.
"[Saban] said, 'Come over here with me. I want you to come over and sit by Bill.' I'm like, 'Bill who?' He's like, 'Bill Belichick. I want you to sit by him and listen to him during the combine as they talk about players,'" Smart said in a video posted by the Ringer's Kevin Clark. 
But during the 40-yard dash drills, Belichick didn't spend any time assessing the actual speed of the D-linemen rushing down the field. Rather, both Belichick and Saban took in the action behind the players, rather than at the finish line.
Why?
"They get where the 40-yard dash — y'all seen those guys with the tights on? They got behind them," Smart said of Saban and Belichick. "I was like, 'Why are we here? We can't time the finish.' [Saban] was like, 'No, Bill likes to look and see how big their ass is when they [get] into their 40-yard stance, because he wants to sign the biggest ass defensive lineman he can sign.
"He said, because those backers want to line up behind these guys, and they want to be protected by them."
An unconventional method, no doubt. But it's hard to argue with the results.
Even though the Patriots have had some misses over the years when it comes to big bodies on the defensive line (Dominique Easley, Malcolm Brown), they have hit more often than not at the position.
Vince Wilfork (No. 21 overall, 2004 NFL Draft) stands at the forefront of the hefty defensive stalwarts that Belichick has plucked out of the draft, with the All-Pro nose tackle swallowing up running backs and anchoring New England's line for a decade.
Another first-round Pats pick Ty Warren (No. 13 overall, 2003) also posted an All-Pro season with the Patriots in 2007 as a pass-rushing force. Christian Barmore has put up promising returns in Foxborough since getting drafted in the second round of the 2021 NFL Draft.
Newsletter Signup
Stay up to date on all the latest news from Boston.com



Source : https://www.boston.com/sports/new-england-patriots/2023/03/16/bill-belichick-kirby-smart-nfl-draft-nick-saban/