Patriots

"I don't see the Patriots making it at this point."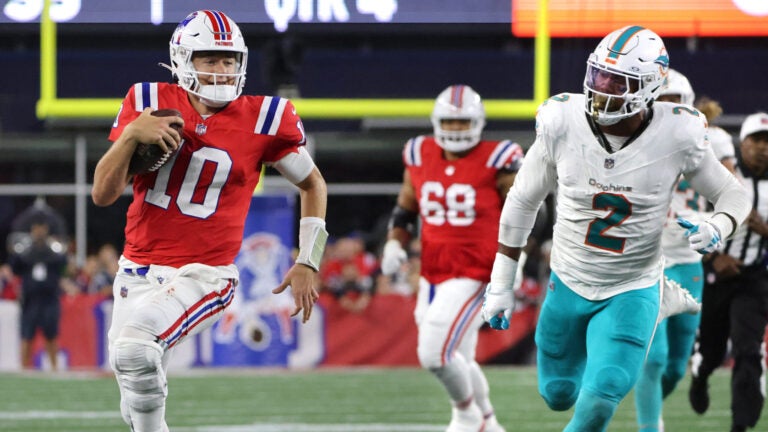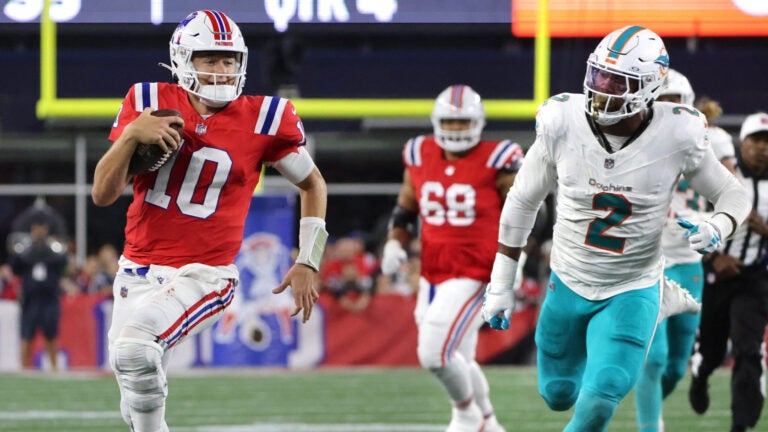 For the first time since 2001, the Patriots have opened a new NFL season with an 0-2 record.
It's an ominous start for a roster looking to prove that an 8-9 campaign in 2022 was just a slight setback. Since the 1990 season, just 11.5% of teams who start 0-2 have gone on to clinch a playoff spot.
Of course, those odds are a bit more favorable now in the NFL with more playoff spots up for grabs. The Bengals accomplished the feat last year after a slow start, while an 0-2 team punched a ticket to the postseason every year from 2013 to 2018.
Still, don't count former NFL QB and current CBS analyst Boomer Esiason among those who believe the 2023 Patriots are going to right the ship after taking on water early.
Even though the Patriots' two losses to the Eagles and Dolphins have featured spurts of encouraging play and spirited fourth-quarter comebacks, the road doesn't get any easier for New England as the calendar continues to flip forward.
"All I know is that the Patriots have lost two home games, which is just crushing," Esiason said during his weekly appearance on WEEI's "The Greg Hill Show" on Monday morning. "It really is crushing. And they've already lost a game within the division. They have to win next week down in New York and they have to beat the Jets with Zach Wilson at quarterback. I know that Bill Belichick has given him fits last year. I would suspect that would be the same again this week.
"But then they gotta go to Dallas, then New Orleans is coming to town. New Orleans is a very good team. I mean, they have a very, very difficult schedule. And then when you look at the back end of their schedule, you're looking at the Chargers, the Steelers, the Chiefs, the Denver Broncos, Buffalo. I just don't see the Patriots making it at this point."
The Patriots' offense has been plagued by many issues through the first two weeks of the new season. A porous offensive line has stunted New England's usually potent run game, while untimely sacks have derailed a few promising drives for Mac Jones and Co.
But New England's lack of explosive firepower on offense has also made it difficult for the Patriots to both keep up with talented rosters and claw out of early deficits.
During Sunday's loss against Miami, the Patriots' longest play on offense came by way of a Mac Jones scramble … for 18 total yards. Even though New England's starting QB connected on 25 of his 26 passing attempts on throws within 10 yards, he didn't connect on any of his five heaves that went over 20 yards.
Granted, Jones is often at his best when executing short-yardage throws, as opposed to throwing 40-yard bombs down the sideline.
Still, whether it be limited protection in the pocket or New England's receivers being unable to separate in coverage, this Patriots' offense doesn't exactly feature plenty of big-play capabilities.
For Esiason, the reason behind that lack of dynamic playmaking is obvious.
"I'm telling you, it's speed," Esiason said. "Instead of having 4.3 [40-yard dash] guys, you have 4.5, 4.6 guys. The opposing team, if you're not tricking them or fooling them, can stay with your guys. A couple times I saw deep throws – it wasn't like they weren't trying to do that – but it seemed like those guys were all covered or a ball was underthrown by Mac Jones that led to an interception. This whole entire league is built on speed. The dynamic speed that guys like Tyreek Hill and Jaylen Waddle bring to a game completely puts the defense on their heels.
"The Patriots don't have anybody like that. They have good, solid players, don't get me wrong, but those solid players are not amongst the top 10 when it comes to explosive plays. Like when you watch Bijan Robinson for the Atlanta Falcons, you see a kid that is basically on a different level from everyone else when it comes to quickness and speed, a la Barry Sanders back in the day. Tell me one guy on the Patriots roster that can mirror that type of talent, that type of explosion. They just don't have it."
New England might have talented players on their offensive personnel like Rhamondre Stevenson, Kendrick Bourne, and Hunter Henry, but the Patriots' true speedster on offense in Tyquan Thornton (4.28 40-yard dash) is currently on IR due to a shoulder injury, and has yet to prove that he has the durability to withstand the punishment of an NFL season.
Benching a shifty route-runner in Demario Douglas also looms large after the rookie landed in Bill Belichick's doghouse following a costly fumble at the end of the first quarter on Sunday night. 
Newsletter Signup
Stay up to date on all the latest news from Boston.com



Source : https://www.boston.com/sports/new-england-patriots/2023/09/18/new-england-patriots-playoffs-boomer-esiason-nfl-football/