Patriots

Watt and Hopkins were teammates together under O'Brien when all three were with the Texans.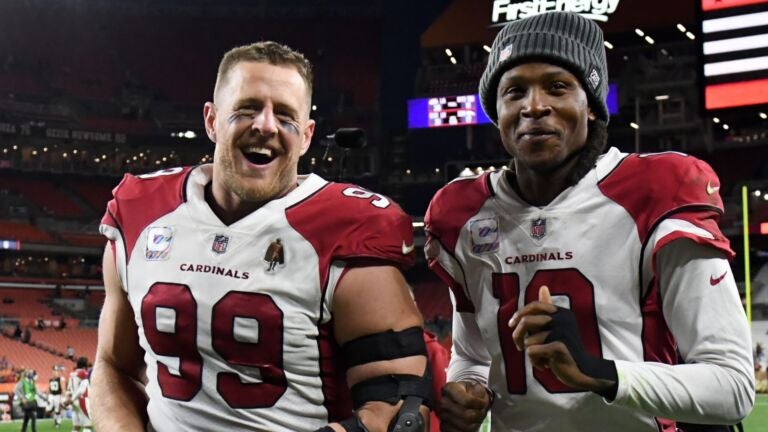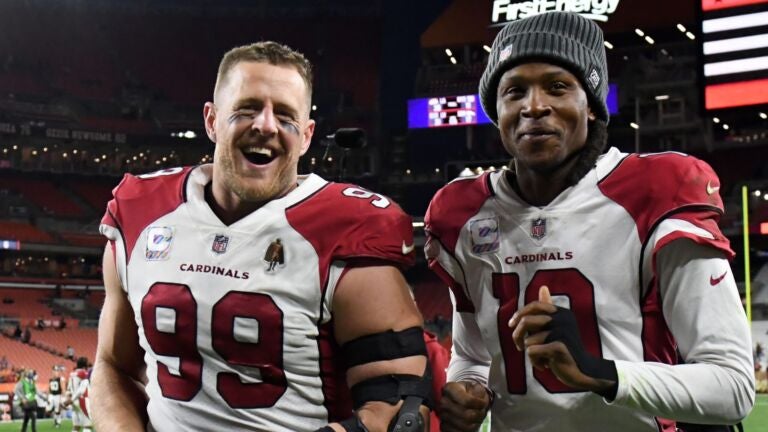 As speculation and reports continue to mount about a possible DeAndre Hopkins trade, there's been one hurdle that the Patriots might have to clear in order to make it happen.
Patriots offensive coordinator Bill O'Brien reportedly had a falling out with Hopkins when he was the coach of the Texans, leading to the receiver's trade from Houston to Arizona. The reported falling out between the two sides has led to many analysts wondering if a Hopkins to New England trade is even possible.
J.J. Watt, who played with Hopkins under O'Brien in Houston and for a couple years in Arizona, thinks that time can heal any wounds between both parties. He also thinks Hopkins is mature enough to work and settle any prior animosity he might have toward O'Brien if he gets traded to New England.
"I think Hop is a smart guy. He thinks through a lot of things and I also think that Bill is [a smart guy too] … I don't think it's a situation where it would be like, 'Oh no, you can't work with him,'" Watt said of the situation in an interview on the "Pat McAfee Show." "I think Hop is very smart and good from that standpoint where he's able to sit down and think through, talk through a situation and amend things."
Watt later added that he doesn't think Hopkins's possible feud with O'Brien is "a situation where it'd be a dealbreaker by any stretch" when it comes to a trade to New England.
Ultimately, Watt thinks that Hopkins is prioritizing one thing above all else in his next team.
"I think if Hop thinks he can win there, I think he would go," Watt said of Hopkins possibly joining the Patriots. "I think he's at a point in his career where he wants to have the ability to win. I think it more comes down to if he believes that he has a chance to go win.
"If he believes, 'That's a place that I can win,' I don't think that relationship would stop him from going there."
It's been reported that Hopkins, who turns 31 in June, is seeking a new deal as he has two years and $34.36 million left on his current deal, carrying a cap hit of nearly $20 million for this upcoming season.
However, Hopkins might not be looking for a top-of-the-market deal like he did when he signed his extension with the Cardinals in 2020. NFL Network's Ian Rapoport reported that Hopkins would be flexible over the last two years of his current contract.
Also speaking to McAfee earlier in March, Hopkins didn't reveal too much about where things stand between him and the Cardinals and where'd he possibly like to play next.
"I take things day for day, man," Hopkins said of the trade rumors. "I don't look forward to the future, I live in the present moment. Right now the Arizona Cardinals is the team and roster that I'm on. I'm preparing myself for whatever the future holds."
Hopkins has still put up some strong numbers in recent seasons. He had 64 receptions for 717 yards and three touchdowns in just nine games last season as he missed time due to a suspension and a knee injury.
The Cardinals' asking price appears to be similar to what they gave up to get him three years ago. They're looking for a second-round pick "plus something of value," according to the Monday Morning Quarterback's Albert Breer.
Sign up for Patriots updates🏈
Get breaking news and analysis delivered to your inbox during football season.



Source : https://www.boston.com/sports/new-england-patriots/2023/03/18/deandre-hopkins-bill-obrien-patriots-cardinals-nfl-trade-rumors-jj-watt/