Bruins

"They had an impact and tilted the ice every time they were on it."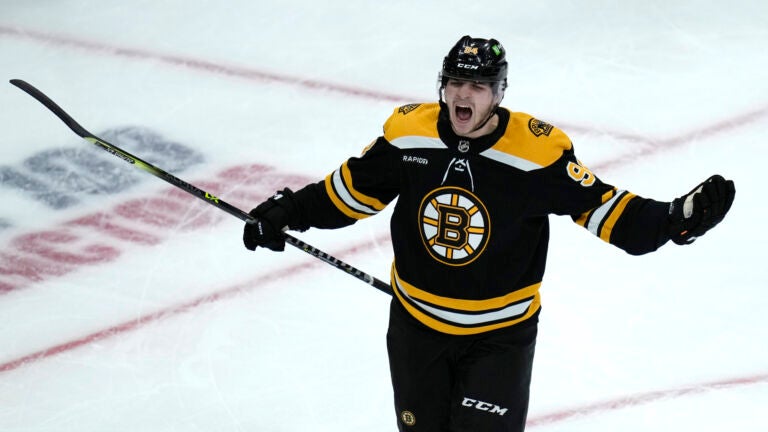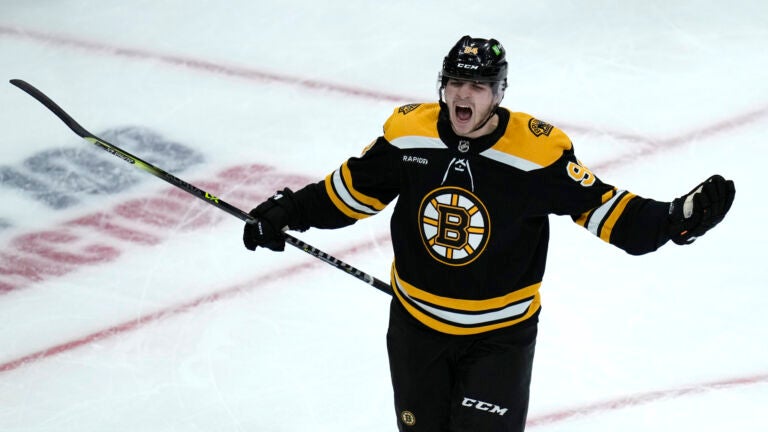 On March 2, Jakub Lauko made the most of his first game at TD Garden in nearly a month.
Inserted as a fourth-line spark plug, the 22-year-old winger rewarded Jim Montgomery's lineup reshuffle by lighting the lamp twice in Boston's 7-1 victory over the Sabres.
"I don't think I've scored two goals in a game in Providence, so sure, it's a special game," Lauko said postgame. "I just want to come in and show the coaching staff and the management that guys can rely on me if I get a chance to play in the remainder of the season."
The affable forward did not touch the ice in the NHL ranks for another two weeks.
That extended lull is not an indictment on Lauko, who has carried out his duties as a pesky checking forward whenever called upon this season.
Rather, it's a testament to the depth across Boston's lineup — presenting an uphill climb to any youngster looking to earn steady minutes on a roster anchored by Cup aspirations.
But after Thursday night's win over the Winnipeg Jets, Lauko might be sticking around on Boston's fourth line for the time being.
Replacing A.J. Greer on an ornery forward trio alongside Garnet Hathaway and Tomas Nosek, Lauko logged a team-low 6:29 of ice time at Canada Life Centre.
But the Czech forward opted for quality over quantity whenever Montgomery ordered him over the boards against Winnipeg.
Lauko didn't factor into any of Boston's tallies against Connor Hellebuyck, but the speedy winger was a fly in the netminder's ointment on multiple O-zone shifts.
Even with just 5:27 of 5v5 reps (also a team-low on Thursday), Lauko ended up leading all Bruins skaters in individual scoring chances with five, while tying with David Pastrnak for the most individual shot attempts (six).
He also drew two penalties, even though Boston's power play once again fired off blanks (0-for-3).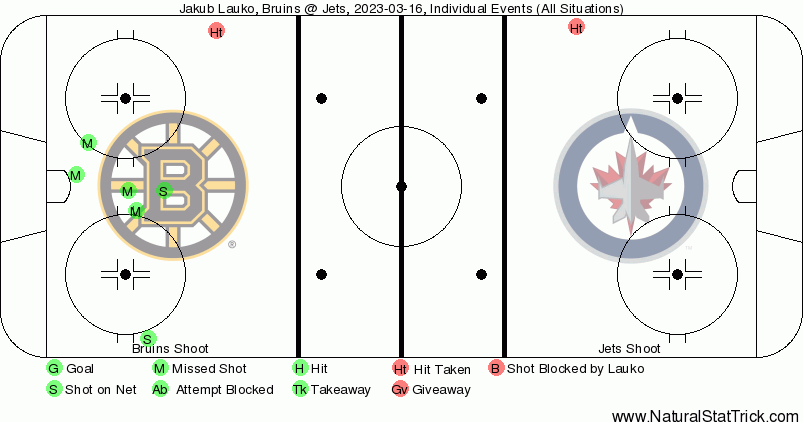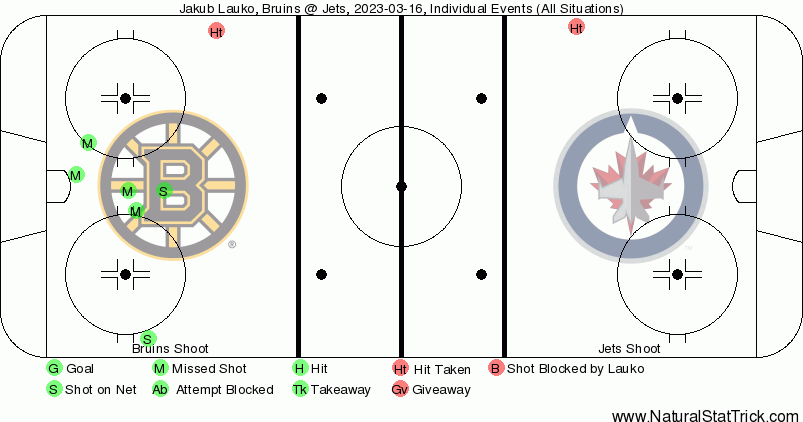 "They were a really determined group," Montgomery said postgame of Lauko and Boston's fourth line. "Unfortunately we took a lot of penalties, or else I would have liked them to play 12-14 minutes tonight. They had an impact and tilted the ice every time they were on it."
Lauko is cut from the same cloth as many fourth-line grinders with his propensity to muck things up down low. But his 0-to-60 acceleration allows him to make something out of nothing when a skittering puck is within his sights.
He didn't knock a biscuit past Hellebuyck, but Lauko laid siege to Winnipeg's net on a standout shift in the second period.
In the span of just 20 seconds, Lauko landed three shots on goal, won two puck battles across the boards, and provided an effective screen on a Hampus Lindholm point blast.
A winning formula, to say the least.
With two more games scheduled over the next three days, Lauko should earn himself a longer leash in Montgomery's lineup.
It's a welcome development for Lauko, given the state of flux he's been in over the last few weeks.
Not only has the 2018 third-round pick been on the outside looking in at regular playing time with Boston, he's also been mired on an emergency-recall carousel.
On a near-daily basis, Lauko has been recalled from the Providence Bruins and promptly sent back down to the AHL shortly after the Bruins have played a game.
Now, Lauko isn't getting put on a plane every single day.
Rather, Boston utilizing the emergency-recall roster measure is a way to keep Lauko available on this current five-game road trip without utilizing one of their coveted four regular call-ups they can use between now and the end of regular-season action.
It's more of a paper transaction than anything, although even Lauko has poked fun at the hypothetical scenario where he's racking up an absurd number of frequent-flier miles.
But given what Lauko has showcased through his brief stints with the Bruins, his time as a fringe call-up option should be a thing of the past.
At the very least, Lauko should be in direct competition with A.J. Greer for that regular spot next to Nosek and Hathaway on the checking line.
Come the postseason, there's no guarantee that Lauko or Greer will continue to earn regular minutes. Even lineup regulars like Hathaway or Trent Frederic might have to look over their shoulder, at least if both Taylor Hall and Nick Foligno are cleared to return from injury.
But even over the final 15 games on the regular-season docket, Lauko can play a major role.
Unlike many others in Boston's locker room, Lauko still has plenty of fuel to burn in his legs, and could help spell fellow bottom-six foot soldiers over these dog days of the early spring.
And after navigating the winding road of transaction-wire limbo, Lauko seems ready to plant himself in one spot for this stretch run.
"He's been very good for us in every game he's been called up," Montgomery said of Lauko earlier this month. "I think it speaks to the season and the development by the coaches and everybody down below in Providence. They're having a great year. It speaks to the depth throughout the organization."
Newsletter Signup
Stay up to date on all the latest news from Boston.com



Source : https://www.boston.com/sports/boston-bruins/2023/03/17/jakub-lauko-bruins-roster-lineup-winnipeg-jets/