Celtics

"We've just got to be the harder-playing team."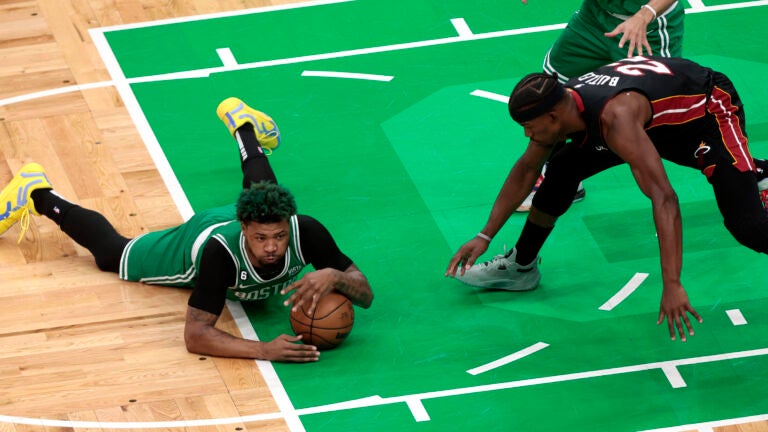 For the second straight game, the Celtics regained their identity and executed with their season on the line.
Boston's Game 5 win over the Miami Heat was far from a fluke. And even though the C's are just the 13th team in NBA history to force a Game 6 after landing in an 0-3 series deficit, Boston isn't reinventing the wheel.
Boston's 3-point shooting has finally reached equilibrium after an extended slump in Games 1-3 of the Eastern Conference Finals.
Jayson Tatum is regularly stuffing the stat sheet, while key contributors like Derrick White and Grant Williams are pulling on the rope.
But for Tatum, it was a scrappy defensive showing that helped put Boston over the top against the Heat on Thursday.
And that tone was set right from the opening tip at TD Garden.
On the Heat's first possession of the game, Marcus Smart stripped the ball away from Bam Adebayo as he drove into the paint. The C's point guard dove at the loose ball to jostle it away from Jimmy Butler's grasp, tossing it over to Tatum for a push down the other end of the court.
Seconds later, Tatum slipped past Kevin Love and converted the layup to give Boston its first lead of the night. The Celtics didn't trail for the entire evening en route to a 110-97 victory. 
"I think it started in the first quarter," Tatum said of Boston's defensive intensity. "First play on defense — Smart diving on the floor, getting out in transition. That was contagious. Smart played his ass off tonight. Everybody did."
Smart's strip of Adebayo was the sign of things to come in a game where Miami's offense labored against a stingy C's squad.
Boston gave Miami little to work with throughout the game, forcing the Heat into 16 total turnovers.
So far in this series, "40 percent" has often been the magic number when it comes to charting Boston's fortunes against the Heat.
When the Celtics shoot at least 40 percent from 3-point range, not only are they 2-0 against the Heat — they're 38-2 this season.
But perhaps "27 points" is the new barometer that Boston should try to stick to.
In total, the Celtics generated 27 points off Miami's 16 turnovers in Game 5. In Game 4? The Heat coughed up the ball 15 times … leading to 27 points for Boston.
Beyond forcing turnovers and easy points down the other end of the court, Boston's ability to win chases to loose balls and timely offensive boards paid dividends.
In total, Boston held a 17-7 edge over the Heat in second-chance points on Thursday, with Al Horford leading the way with five offensive rebounds.
The Celtics still face a steep uphill climb against the Heat, especially with Game 6 shifting back down to Miami.
Boston will need to continue to execute on offense, especially in terms of maintaining their sterling shooting percentage from 3-point range.
But if Boston intends to orchestrate this comeback and force a Game 7 back on Causeway Street Monday night, it's going to have to scrap and claw away at every loose ball, rebound bid, and second-chance opportunity that falls its way at Kaseya Center.
"I think that's the key," Jaylen Brown said. "I think in the first couple games they was definitely winning those plays, beating us to loose balls, diving on the floor, and I think in the last two games that we've been able to win in those stats and at least match that same intensity. They've been able to come back down to earth a little bit.
"We've just got to be the harder-playing team. They're well coached. Spo is a great coach. They've got great players who have a great mentality, and it's going to be a dogfight and we've got to be ready to go."
Sign up for Celtics updates🏀
Get breaking news and analysis delivered to your inbox during basketball season.



Source : https://www.boston.com/sports/boston-celtics/2023/05/26/jayson-tatum-boston-celtics-marcus-smart-game-5-miami-heat/