Patriots

Jakobi Meyers' departure creates yet another vacancy on the depth chart for the Patriots this offseason.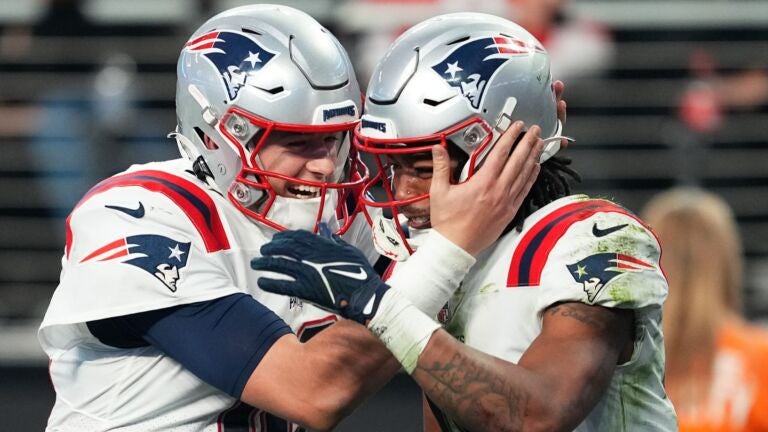 COMMENTARY 
Jakobi Meyers opting to pack his bags and head out to the Vegas desert isn't exactly a death blow to the Patriots' hopes of a bounce-back campaign in 2023.
After all, there's still plenty of time for Bill Belichick and his staff to augment this roster before training camp opens in July.
The "official" start of free agency doesn't even commence until Wednesday. New England still has $24.2 million in effective cap space to work with (per OverTheCap.com). 
Dealing in absolutes during the opening days of an offseason is a dangerous game, especially with so many dominos yet to fall.
But given Meyers' value both off and on the field — along with a growing offseason to-do list for Belichick — letting the homegrown wideout walk looks like a puzzling move for a Patriots team suffering from a dearth of offensive talent.
With Meyers reuniting with Josh McDaniels in the AFC West, the Patriots now have yet another hole on their depth chart.
Already thin in their receiving corps with DeVante Parker, Kendrick Bourne, and Tyquan Thornton the remaining viable weapons for Mac Jones, New England will now need to allocate more resources in search of a new slot target.
Meyers may not be a No. 1 option on a playoff-caliber offense, but the undrafted receiver out of NC State has developed into a dependable playmaker capable of moving the chains.
The 26-year-old Meyers led New England in receiving yards each of the last three seasons. And on a Patriots offense lacking in big-play generators, Meyers was often the driving force behind many sustained drives.
The Patriots may still be in the market for a deep-threat target that can put secondary units on their heels, but a player with Meyers' skillset isn't an abundant commodity on the open market.
In third-down situations, Meyers reeled in 22 receptions for 330 yards last season — keeping many marches down the field alive for a stagnant New England personnel.
Meyers has served as a reliable safety blanket for Jones over the last two seasons. But New England might have just conceded that the unrestricted free agent was going to be too pricey for their taste this spring.
He did secure a sizable pay bump from the $3.9 million salary he commanded last season in Foxborough. But it's also not like Meyers broke the bank with the Raiders, even with his standing as the crown jewel of an underwhelming free-agent wideout group.
Even though Meyers' new contract is for a reported $33 million over three seasons, it offers little in terms of security for the receiver. If the Raiders opt to cut Meyers next spring, they can forgo his salary in both 2024 and 2025, along with a $5.5 million roster bonus.
Even if Meyers remains in place for all three seasons of his new deal, an annual salary of $11 million falls below the $15 million salary that Meyers was potentially in line for this offseason. 
And for those keeping track, an $11 million payout was what New England doled out for Nelson Agholor (two years, $22 million) during their 2021 spending spree. So no, the Patriots aren't opposed to committing that much money to players they believe can bolster their offensive capabilities.
And when compared to Agholor's output the last two seasons in New England, Meyers is well worth the contract that Vegas handed him.
Perhaps the Patriots decided that Meyers was still not worth a double-digit salary in 2023 and beyond. Perhaps they believe that there were more pressing areas of the roster to address.
But by letting Meyers walk, the Patriots only punched another hole in their depth chart that will need to be addressed in the coming months.
And even though there are other avenues that New England can turn to in search of receiving help, the Patriots only have so many resources (be it cap space or draft capital) at their disposal to shore up their roster.
Yes, the Patriots could deal for a playmaker like DeAndre Hopkins or Jerry Jeudy. But that's going to require more assets leaving Foxborough, along with New England potentially having to fork over even more cash on a long-term deal for its new acquisition.
Maybe they target a blue-chip prospect like Quentin Johnston or Jaxon Smith-Njigba with the 14th pick in the NFL Draft? But again, that feels like a case of robbing Peter to pay Paul, given the potential of a franchise tackle like Broderick Jones, Paris Johnson Jr., or Peter Skoronski being available with that first-round selection.
And after not spending big on free-agent tackles like Jawaan Taylor or Mike McGlinchey over the last two days, the Patriots' options on the O-line are dwindling.
The pressure is already on Belichick and the Patriots after a disappointing 2022.
Robert Kraft already stressed that "critical evaluations" would be made this offseason. The rest of the AFC East is loading up, and that's not even factoring in Aaron Rodgers' onerous courtship with the Jets. 
Yes, Meyers' exit may not stand as a worst-case scenario for the Patriots in 2023.
But it sure feels like an unsettling omen.
Newsletter Signup
Stay up to date on all the latest news from Boston.com



Source : https://www.boston.com/sports/new-england-patriots/2023/03/14/jakobi-meyers-patriots-offseason-raiders-mac-jones/