Kramer Morgenthau has been working as a cinematographer for more than three decades. He has lensed indie films ("The Man from Elysian Fields" and "Chef"), episodic TV ("Boardwalk Empire," "Game of Thrones"), and Hollywood franchises ("Thor: The Dark World" and "Terminator Genisys"). His style is a mixture of sleek and gritty; Morgenthau often uses warm or dark colors to create a mood, but they can also turn harsh. That is how he focuses viewers' attention.
His latest film "Creed III" is no exception. Morgenthau bathes this film in tones that create emotion, particularly during the climactic bout between Adonis Creed (Michael B. Jordan, who also directed) and Damian Anderson aka "Diamond Dame" (Jonathan Majors)—a sequence that shifts from bright whites to dark blacks. 
The new film has a very different look from its predecessor, "Creed II" — which Morgenthau also shot — in part because it was set in Los Angeles, as opposed to Philadelphia. The cinematographer chatted with Salon about creating the look of "Creed III" and being in the ring with Jordan and Majors.
What decisions did you take regarding the look of "Creed III" to make it distinctive? "Creed II" had a different feel to it. This installment had some really interesting tonal choices.
It was my second time shooting a "Rocky" franchise movie. We want to bring a different take to each one and honor the legacy of these films. Michael [B. Jordan] wanted the visual language to swing big and hard as a director, and he brought in anime, and a poetic take — "the void," which is in Round 11 during the final fight — which was super cool. The only other movie where I've seen anything like that would be in "Raging Bull" where it is a very expressive take on boxing.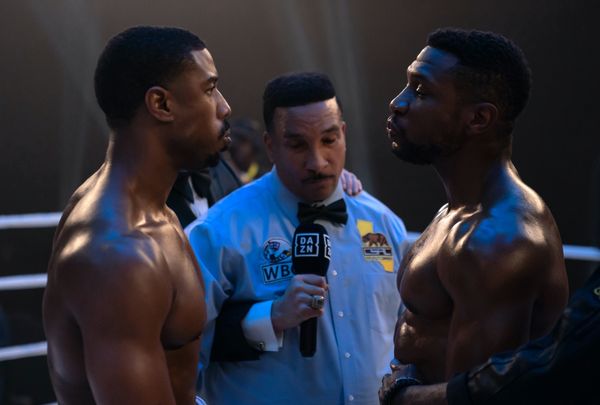 Michael B. Jordan stars as Adonis Creed and Jonathan Majors as Damian Anderson in "CREED III" (MGM)
Can you talk about the process of shooting the fight sequences? 
It's a tremendously physical experience. I had an amazing Steadicam operator, and we embedded him with the boxing choreographers early in the process to design how the fights were photographed. Garrett Brown invented the Steadicam [for the original "Rocky"] and it is one of the best ways to film boxing because there is a tremendous amount of handheld shooting. It's like boxing with a camera. 
I was also interested in the way you film bodies here because the athleticism of the actors is often so prominent. Can you discuss that?
The way we photographed the bodies was like photographing sculpture. Their bodies are sculpted and beautiful, and covered in sweat and oil and very reflective. Shooting them was about how their bodies and faces were reflecting light and honoring their performances was showing them in their "best light," so to speak. I studied paintings by George Bellows, and the Ashcan school of painting was an inspiration. There was an Eakins painting in a museum in Philadelphia that I was looking at, and I referenced great boxing photography, like some of the Ali color photographs. These images inspired how we lit the boxers. 
I was struck by scenes such as Creed arriving for his title bout. He is bathed in red, and the camera follows/tracks him. It's a big, important moment. Can you talk about the camera movement and the lighting?
The use of red around Adonis is very intentional. Green is used around Diamond Dame. These colors delineated their characters and their emotional universes. The dramatic scenes are shot in chiaroscuro and in warm, expressive light so the character is always the focal point of lighting and photography. You bring out the performance with light and photography; it is how you project it to the audience. You don't want to be intrusive, at the same time, you want to say something with it that elevates it. It has to have a slickness and a larger-than-life quality to it. At the same time, you want to speak to the grittiness of their backstory and the emotional tension. The red elevating the tension during the walkout [to the ring], is the ultimate moment of real theater. A lot of theatrical lighting instruments were used for that. The use of shadow and light were echoing. Dame is in the shadows, and Adonis is in the light.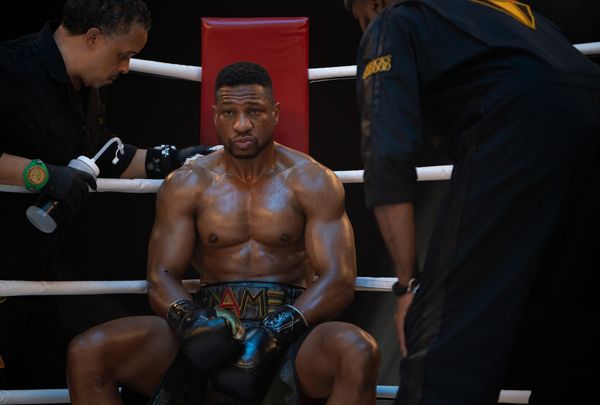 Jonathan Majors in "Creed III" (MGM)
Can you talk about using your visual references and how that informs your choices as a cinematographer?
When I bring visual reference into how a movie is photographed, it is generally subconscious versus, "I am going to emulate the same light in 'Raging Bull,' or use the same lens." I'll study a film, and absorb it, and figure out how to find my voice as a cinematographer and bring out Michael B. Jordan's voice as a director.
"Creed III" features an underclass story and there is a Dickensian element to it. Diamond Dame is in Crenshaw and never left Crenshaw. He did time, 18 years, and lost everything, including his chance to become a boxer. Then there is Adonis, who got out of Crenshaw, and moved to Beverly Hills.
They are meeting on a huge world stage and duke it out. The whole feeling changes when we go into the boxing matches. We change formats. We went into IMAX, we used different lenses, spherical lenses, different aspect ratios, so things are much taller to make it super visceral. And we used anamorphic lenses for all of the dramatic scenes. We used slow motion for the skin rippling in the punches. It was all about extreme slow-motion, 1,000-frames-per-second photography. It is where filmmaking and cinematography meet. It's all the layers of the same onion. 
How do you collaborate with a director and his vision?
My collaboration with Michael B. Jordan started as a friendship, and a bonding over his interest in what I was doing. He has been studying what I do, and what other cinematographers do, on sets since he was 16 and started acting on "The Wire." He studied directors like Ryan Coogler ["Creed"] and Steven Caple, Jr. ["Creed II"], and Denzel as an actor-director. Our bond was made initially as a friendship, and when he did have the opportunity to be a director, it was a huge jump from having directed nothing to making an $80 million sports movie, where he is also the star, the producer and a huge celebrity who has all kinds of people and things to pay attention to aside from direction. He's an amazing dude. Part of it was just trusting me to support him. That is how he gets the best performance out of actors and out of cinematographers. He had all these ideas and said, "Let's figure them out together." He brought anime into our visual language and this poetic interpretation, "the void," which was like an abstract, experimental theater interpretation of boxing. It was amazing he wanted to do this and take this risk. It was a great experience to be trusted and given license to bring out his vision.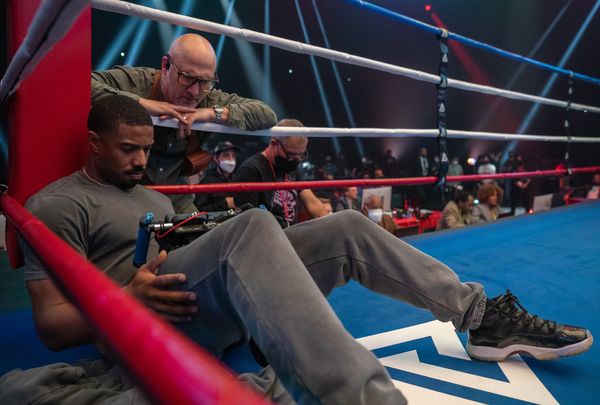 Director Michael B. Jordan and cinematographer Kramer Morgenthau on the set of their film "CREED III" (MGM)
Do you aspire to direct one day?
I would love to direct something, someday. I'm not a cinematographer because what I want to do is direct. I'm a cinematographer because I love what I do. It has been an amazing trip for the last 30 years. I lean towards cinematography because I am more of a visual person. I'm not a man of words, I'm a man of pictures. It is who I am. I'd love to tell my own story, and it would have to be something I grew up with or understand as deeply as MBJ understood Adonis Creed. I would love to make a Jewish gangster story. I love historical drama, and political thrillers. That would be super dope to do. I have directed things in the past, but it is not the ultimate goal. I'm not secretly angling to direct, but if the opportunity came up . . .
Read more
about Michael B. Jordan or Jonathan Majors

Source : https://www.salon.com/2023/03/16/creed-iii-light-color-kramer-morgenthau/