Local

After a nearly 9-hour overnight search and rescue mission, the two hikers were rescued.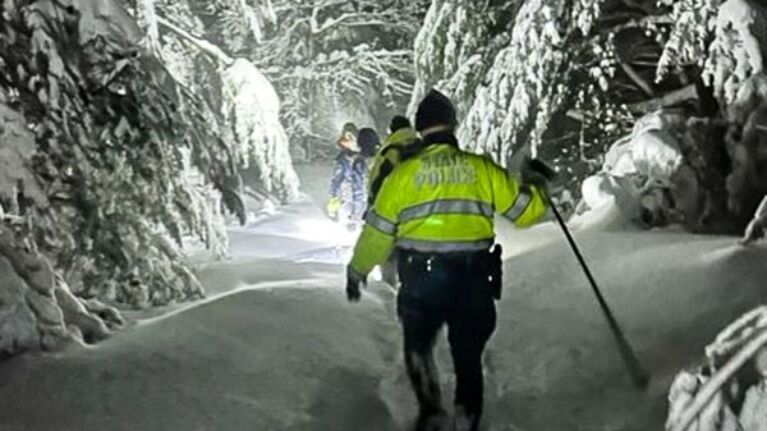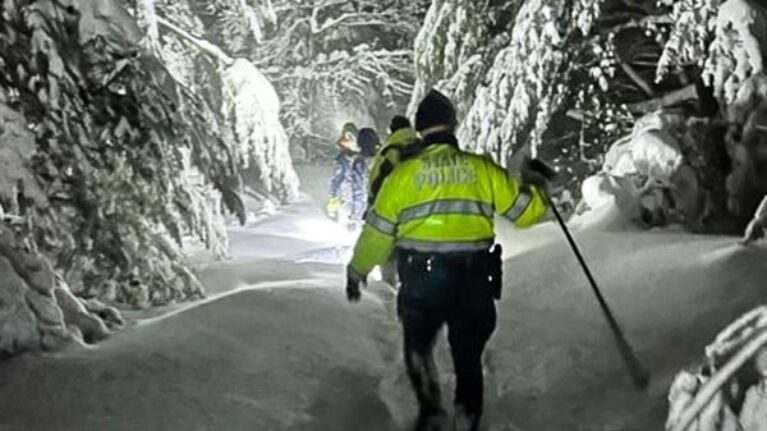 As high winds swirled and heavy falling snow piled up in Mt. Washington State Forest, two hikers found themselves lost in Tuesday night's darkness, unable to see the forest's trail markings. Nine hours and one search and rescue mission later, the two hikers arrived at the Massachusetts Department of Conservation and Recreation (DCR) headquarters.
Massachusetts State Police say the search and rescue mission started at 7:48 p.m., when two hikers, aged 47 and 53, called the Berkshire County Sheriff's dispatch center to report that they could not longer see the Alander Trail signs due to heavy snowfall and gathering darkness. The dispatch center forwarded the call to the State Police Lee Barracks, who told the hikers to stay where they were.
As DCR officials worked to pinpoint the exact location of the hikers, state police assembled a team of Massachusetts State Police units, Egremont and Sheffield firefighters, state environmental police, and DCR rangers at the command post located at Egremont Fire Department on Route 23.
By 11:15 p.m. a separate group of first responders and public works crews had cleared the roads between the command post and the trail entrance — which were scattered with fallen trees and powerlines — to provide snowmobiles to the team.
A search and rescue team, consisting of two troopers from the State Police Special Emergency Response Team, three Sheffield Firefighters, and a DCR Ranger, arrived at the trail entrance on snowmobiles at 12:09 a.m. However, due to the depth of snowfall, police were unable to use their snowmobiles and would need to locate the hikers on foot.
After a two-and-a-half hour hike, at approximately 2:30 a.m., the team found the men. The two hikers were suffering from fatigue and cold temperatures, but were not injured. Eventually, the group arrived at DCR headquarters, located near the trail entrance. Southern Berkshire Ambulance EMTs examined the two men and transported them to a local hospital for further evaluation.
Police say that by 6:20 a.m., nearly 10-and-a-half hours later, all troopers were cleared from the command post.
As the mission in Mt. Washington State Forest played out, two young skiers were saved in central Massachusetts. According to the Princeton Fire Department's Facebook page, two boys had ventured outside of Wachusett Mountain's skiing boundaries, nearly "[two] miles from any civilization, during Tuesday's storm with their phones' batteries below 9%. Luckily, the young boys were saved.
"Personnel battled the elements, darkness and dangerous snow pack. This could have ended tragically but these boys are very lucky and used their heads and shared body heat to survive," the department stated.
Newsletter Signup
Stay up to date on all the latest news from Boston.com



Source : https://www.boston.com/news/local-news/2023/03/15/hikers-rescued-mount-washington-state-forest-noreaster/