Patriots

"I just think he's gonna skyrocket."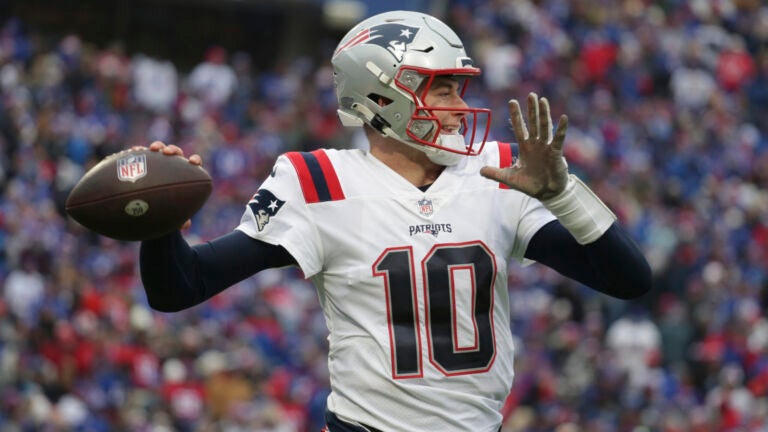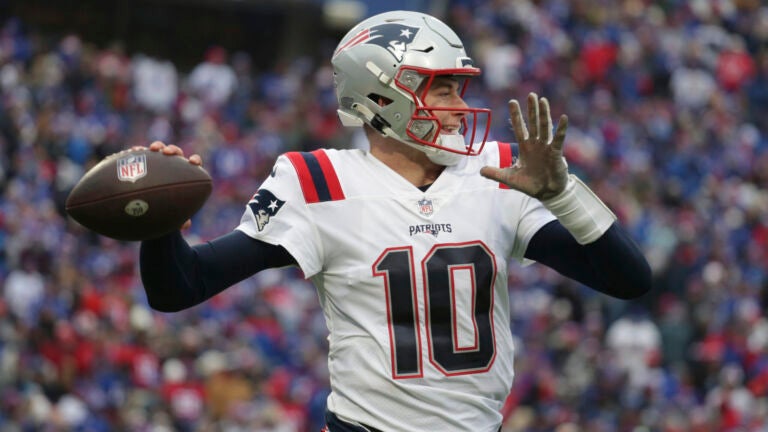 After a tumultuous 2022 season where New England's offense severely regressed, Mac Jones has been a target for criticism entering his third season with the Patriots.
But the 24-year-old quarterback has one steadfast supporter in recently retired captain Devin McCourty. 
The former safety has been in Jones' corner ever since the 2022 season concluded, noting that the Patriots QB should benefit from New England's coaching overhaul on the offensive side of the ball.
But beyond the fruitful returns that might come from Jones collaborating with Bill O'Brien, McCourty noted that every signal caller needs time to settle into the NFL ranks.
Jones may not boast the high-end ceiling of other QBs like Patrick Mahomes, Josh Allen, or Jalen Hurts. But McCourty acknowledged on the "Up and Adams" show on FanDuel TV that many other star players needed multiple years before breaking out at their respective positions.
"I'll say this. All these young quarterbacks come in and they get crushed right away," McCourty said. "Then we watch Jalen Hurts, we give him time to develop, and now everybody's like, 'Did you see the Super Bowl he had? Man, he might've been better than Mahomes.' And it's like, yeah he got drafted for a reason. We see Tua [Tagovailoa] down in Miami. You finally get some stability around him. 
"Get him with Mike McDaniel, a guy who's run offense, been in San Francisco. 'Oh man, he's actually a good player.' And I look at Mac who came in as a rookie under Josh McDaniels. Showed so much promise, ended up in the Pro Bowl as an alternate. Played really well for us. Gave us a chance to go compete in the playoffs. … Two years removed from the greatest quarterback to ever play the game, we were back in the playoffs. Like, you never hear of that."
The promise that Jones showcased during his Pro Bowl season as a rookie in 2021 was largely negated by a dysfunctional 2022 campaign.
With Matt Patricia and Joe Judge crafting a simplified playbook that didn't exactly cater to Jones' strengths as a signal caller, New England's offense struggled to gain traction down the field.
Of course, the instability in New England's coaching ranks does not absolve Jones from stretches of poor decision-making and lackluster execution in critical moments last year.
But with O'Brien at the helm, Jones should benefit from having a new offensive authority who is already familiar with the systems implemented by both Josh McDaniels in New England and Steve Sarkisian at Alabama.
"Last year, it's kinda like, a new, testing things out with [Patricia] and Joe Judge kinda running the offense — which it didn't work," McCourty said of Jones and New England's offense. "And, you know, the bad thing for Mac is a lot of that goes right to him, like, 'He wasn't good. His fault, his fault.'
"And I just don't see it that way. He's a young guy who will now get a chance to be with [O'Brien], a proven offensive mind. I think he's gonna go, and I just think he's gonna skyrocket."
Newsletter Signup
Stay up to date on all the latest news from Boston.com



Source : https://www.boston.com/sports/new-england-patriots/2023/03/14/devin-mccourty-new-england-patriots-mac-jones/